Lucky Luciano
To coincide with second season of HBO hit TV drama series 'Boardwalk Empire', St Martin's Press in New York issues paperback edition of Lucky Luciano book.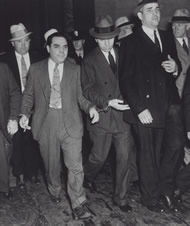 For the first 25 years of his criminal career, Charles "Lucky" Luciano was a vicious mobster who rose to become the multi-millionaire king of the New York underworld. For the next 25 years of his life, Luciano was a legend—but a fake master criminal without real power, his evil reputation manipulated and maintained by the government agents who had put him behind bars.
Tim Newark meets Spence Johnston of Las Vegas' Mob Attraction in the Tropicana. They stand in front of Lucky Luciano's Studebaker.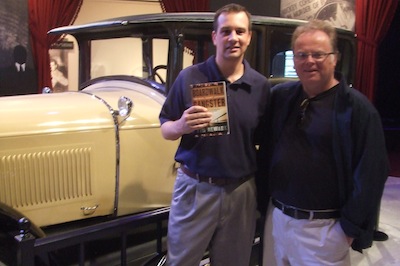 Drawing on secret government documents from archives in America and Europe, it tells the real story of the legendary gangster from his early days as a top hit man for the mob to his exploits running sex and narcotics empires. It reveals for the first time, Luciano's transatlantic trip to Nazi Germany to set up a drugs importing racket. Then comes prison for Luciano—but his reputation is only enhanced when it is claimed that he was winning World War Two for the Allies with secret help during fighting in Sicily and the Mediterranean. Through painstaking research, it exposes the truth about what Luciano really did do to help the Allies in the war.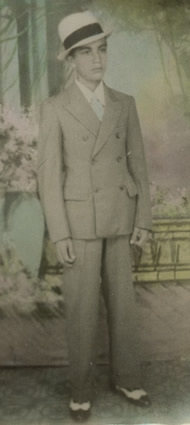 With his expulsion from the USA, Luciano returned to Italy where he became the arch villain for international law enforcement agencies. He was reputed to head a massive transatlantic narcotics network, but Newark reveals how Luciano was being used by government agents to justify their own bloated law-enforcement budgets. It was a complex conspiracy in which Luciano—the fake master criminal—became the victim of far bigger powers around him. This book provides evidence that, at one time, he was even working as a Cold War agent, helping the US government fight Communism in Sicily. It is an extraordinary story that has never been told before—in which the American Mafia becomes entangled with foreign war and Cold War conspiracy.