Tim Newark's Biography
Tim Newark is the author of several critically acclaimed history books, including The Mafia at War, Lucky Luciano, Highlander, The Fighting Irish, Protest Vote and Camouflage, which accompanied the Imperial War Museum exhibition. He was the editor of Military Illustrated for 17 years and has written seven TV military history documentary series, including Hitler's Bodyguards.
He has contributed political comment pieces, book reviews and feature articles to the Daily Express, Telegraph, Financial Times, and Time Out, and appeared on radio and TV, including ITV's Good Morning Britain and BBC's Panorama. He has given public talks on a variety of subjects, speaking at the National Army Museum, Imperial War Museum, Central Saint Martins School of Art, American Museum in Britain, the Naval & Military Club, Bath Spa University and a Conservative Party Conference. He has served as an historical consultant to the Royal Mail and Royal Mint.
Tim Newark was born in 1961 on St George's day. He was educated at Brentwood County High School in Essex and studied the History of Art at University College London and the Warburg Institute. In 1979, his first book Medieval Warfare (Jupiter) was published while he was still at school.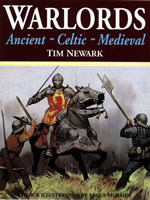 In his early 20s he worked as an art journalist with regular columns in the National Student newspaper and Over21 magazine. He wrote several screenplays, travelled to Hollywood, had one optioned, but no projects filmed. In 1985, The Barbarians was published by Blandford. With illustrations by Angus McBride, this popular history of the fall of Rome became a best-seller, going through seven reprints in two years. The sequel in 1986, Celtic Warriors, was also a best-seller and was followed by Medieval Warlords and Women Warlords. The first three books are still in print as an omnibus edition called Warlords. In 1990, his first novel was published by Muller, an imprint of Century Hutchinson. The Land of Eternal Fire is an adventure set in the 5th century in the Eastern Roman Empire about a young Hun and his Roman friend on a quest for the ultimate weapon of the ancient world.
From 1994 to 2011, Tim became editor of Military Illustrated, the monthly military history magazine founded by Martin Windrow in 1986. For 17 years, he has enjoyed commissioning work from many top military authors and illustrators. In 1995, he began an association with Brassey's and commissioned the 11-volume series of critically acclaimed military monographs entitled Brassey's History of Uniforms.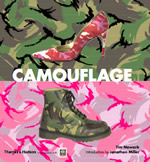 Tim wrote and packaged Brassey's Book of Camouflage, published in 1996, the first book to tell the entire story of camouflage uniforms. It also presented camouflage patterns as works of art. It stuck a chord with the fashion industry and was a hit among design students, with Tim appearing on the BBC TV Clothes Show. Tim followed up the success of this book with Brassey's Book of Uniforms in 1998, which told the cultural history of military uniforms.
Tim continued his research into the history of camouflage and in 2003 had an exhibition of his camouflage paintings at the Coningsby Gallery in London. The accompanying catalogue, The Future of Camouflage,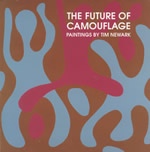 explained that Tim saw camouflage patterns as a way of expressing links to landscapes, urban or otherwise. 'Every city,' he said, 'every neighbourhood should have its own camouflage pattern.' A second exhibition followed in London and then a third at Casa Amatller in Barcelona, where he was asked to design a label for a Spanish chocolate brand. His London exhibition received a page-review in Le Figaro and coverage in many other design and art journals. In 2007, he was the author of Camouflage (Thames & Hudson), the book accompanying the Imperial War Museum exhibition, the first to show the entire history of camouflage from the First World War to its impact on contemporary fashion.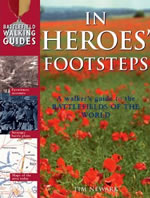 Tim Newark has continued to write several well-received popular military history books, including War in Britain (HarperCollins, 2000), Where They Fell (Barron's, 2000), In Heroes' Footsteps (Barron's, 2001), and Turning the Tide of War (Hamlyn, 2001). His father, Peter Newark, runs a well-known historical picture library and Tim has worked with him on many projects to source illustrations. In 2000, Tim began work as a scriptwriter and historical consultant for Nugus/Martin Productions, resulting in seven TV documentary series, including Heroes & Weapons of WW2 & Hitler's Bodyguards, screened by the History Channel and BBC Worldwide.
Tim always likes a new challenge and in 2005 took on his local council government in Islington, campaigning against their draconian parking policy, which threatened the future of local shops. He started his own political party, Local Freedom, stood as an independent candidate and won enough votes to beat the local Conservative party. As a result, council parking policy was modified. He has since worked as a successful grassroots campaigner for The TaxPayers' Alliance and continues to campaign on local issues. Local parking policy has since been modified.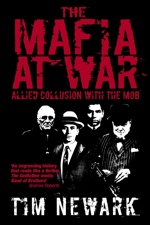 In 2007, The Mafia at War (Greenhill) was published. Called Mafia Allies in the US (Zenith), it involved extensive archival research in London, New York, Washington, and Sicily. It has been well reviewed by Mafia authorities, and John Dickie, author of Cosa Nostra, recognised its depth of research in the BBC History Magazine. 'Tim Newark's admirable study,' said Dickie, 'is a meticulous rebuttal of all that is sensationalised and misleading.' Best-selling historian Andrew Roberts chose it as a Book of the Year.
In 2009, Highlander (Constable) was the result of in-depth research in the archives of Highland regimental museums in Scotland and national collections. The book tells the story of Highland soldiers through their own words and reveals many long-hidden scandals.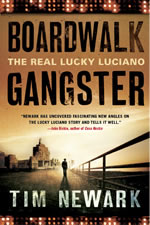 In 2010, Lucky Luciano (St Martin's Press) revealed an astonishing conspiracy involving the legendary gangster. For the first 25 years of his criminal career, Charles 'Lucky' Luciano was a vicious mobster who rose to become the multi-millionaire king of the New York underworld. For the next 25 years of his life, Luciano was a legend—but a fake master criminal without real power, his evil reputation manipulated and maintained by the government agents who had put him behind bars. Drawing on secret government documents from archives in America and Europe, Newark tells the real story of the legendary gangster from his early days as a top hit man for the mob to his exploits running sex and narcotics empires.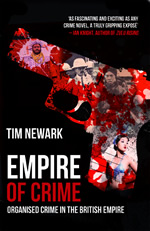 In 2011, Empire of Crime (Mainstream) is the first book to reveal the full extent and variety of organised crime within the British Empire in the 20th century and how gangsters exploited its global trade routes to establish a new age of criminal networks that spanned the world. Digging deep into British colonial archives, Newark has discovered startling truths about organised crime inside the British Empire.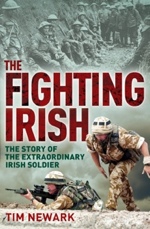 In 2012, The Fighting Irish (Constable) tells the extraordinary story of Irish soldiers serving around the world from the battle of the Boyne to the mountains of Afghanistan in the 21st century. Newark tells their tales in the dramatic words of the soldiers themselves, gathered from diaries, letters and journals from archives—and interviews with veterans—in Ireland and across the world.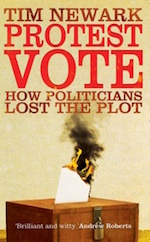 In 2014, through candid interviews with key political figures from Nigel Farage of UKIP to Sara Parkin of the Green Party, Protest Vote (Gibson Square) told the colourful story of the rise of Britain's protest movements against the political Establishment, and the maverick leaders that expressed this tide of discontent. It pinpointed the moments when the arrogance of mainstream politicians lost them voters—and how this changed politics in Britain. Subsequently, Tim authored and presented a short film report for a BBC1'Panorama' post-election special about UKIP voters in Grimsby.
In 2015, The In & Out—A History of the Naval and Military Club (Osprey) revealed the story of one of London's greatest and oldest service clubs. Lavishly illustrated, it described its rich and entertaining history for the first time, capturing the essence of British style inside one of London's grandest clubhouses—first with a famous home in Piccadilly and now in St James's Square.